Clint Eastwood is 80 years old. He is a Film Director, Actor, Producer and Composer.
Achievements:
Academy Awards

1992 - Best Director, Unforgiven
1992 - Best Picture, Unforgiven
2004 - Best Director, Million Dollar Baby
1994 - Irving G. Thalberg Memorial Award
2004 - Best Picture, Million Dollar Baby



Golden Globes

1989 - Best Director, Bird
2005 - Best Director, Million Dollar Baby



Cannes

2003 - Golden Coach, Mystic River
Sooner or later, (rather later than sooner), Eastwood won't be gracing us with his brilliance. So who will take over? ... James Franco. Whether you agree or not, you know I'm telling the truth.
Actor, Director, Screenwriter, Film Producer, Painter. Does it sound familiar to anyone I have recently mentioned?
The first time I saw James Franco was in Spiderman. He was Spiderman's rich loser friend. Never did I think he would become what he is about to become. Looking at the direction of the films he has been starring in lately, it seems as if he is going towards the
Academy Award Nominated/Winning Film
direction. I think this is the right way for him to go. Besides James Franco I can't think of another upcoming actor who could amount to the same success as Clint Eastwood.
Hollywood has become a reality show and everyone is trying to get themselves voted off. Franco is the quiet guy who makes it to the final, but won't win because he wasn't being scandalous. I don't think he getting the of credit he deserves. However this could work in our favour and his. If he gets all this attention, he could succumb to the pressure and then ... POOF! no more amazing-ness. But I know that Franco won't let us down.
I've never heard anyone compare James Franco to Clint Eastwood, (no one else has thought this far yet). He has only really been compared to Sean Penn and James Dean.
I think the only reasons for the Dean comparison is the appearance and their first names. Dean was more of an actor and a Pop Culture icon while James Franco will define the Art of Film.
The Penn comparison make sense. He too is a director and actor. But when we hear the name 'Sean Penn', we don't think of the director/actor combo. Well at least I don't. I think other reasons for this is because they both starred in the film
Milk
.
We can compare James Franco to the whole world. But what will remain the same is that he is about to become Hollywood Legend. I might be the only one who sees this, but I can feel it. Soon when I'm eighty I will be finding other people to compare to James Franco. Maybe Will Smith's grandchildren will become what Franco is about to become.
And if for some
sad
reason he doesn't take this path which I have visioned, he still has a couple of degrees behind him. Hopefully this is inspiration for all to get their degrees then become a dancer/singer/actor/performer/idols-reject.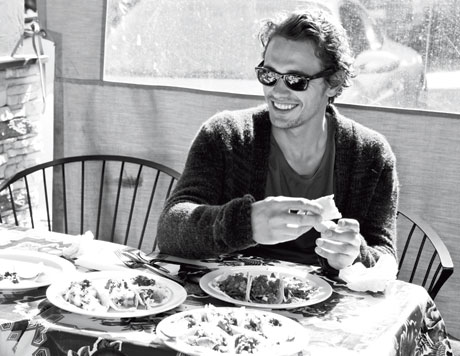 He has all the qualities that make him Hollywood legend.
Now we just have to wait for brilliance to take place.