I'm guessing we all watched the beautiful Royal Wedding that took place on the 29th of April. I know many people didn't see the significance of us all watching but this is the wedding that will shape and inspire weddings to come for the next decade. I can't say I was the biggest Kate fan before the wedding.
I would like to think I grew up with Princess Diana but I actually didn't. Princess Diana was our mothers' friend which makes her Aunt Diana to us. In simple terms, Princess Diana was our parents' contemporary and Catherine Middleton is ours. So let us skip to the wedding, my favourite part!
The only reason why I watched the wedding was so I could see the dress. I could not sleep the night before because I even thought she would wear a blue dress. So fine she gets into the car and we see a glimpse of the dress. I only see lace and a train that doesn't end. Then I'm thinking ... "It's Diana all over again ...
Great
". Now I'm not impressed as she is trying to imitate the late Diana and I know that she has been compared to Diana for the longest of times but now why does she have to have a never ending train. Gosh! The stress is building! Okay fine. This will all be fine. So they make their way and at least her face and hair looks good and at least Prince William also looks good. Okay ...
Then she steps out of the car and I am overwhelmed by the beauty of this dress. In case you didn't notice it was two colours. Yes, two colours. White and Ivory. And the train wasn't too long either. I'm so glad she decided to go with Sarah Burton for Alexander McQueen. McQueen was one of the most underrated fashion designers if you ask me and now he has had a chance to shine.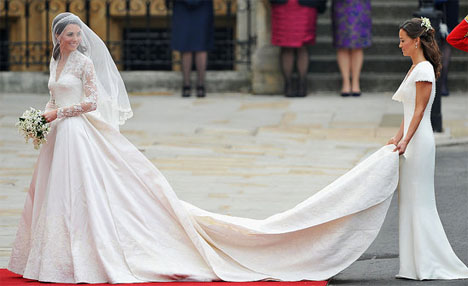 This is the wedding dress to copy. Lace has been a huge trend this year and white
(but she was required to wear white)
. From now on, all wedding dresses will have lace as a standard. Don't say I didn't say so. The dress reminded many of the Late Grace Kelly's wedding dress as well. In fact it was actually almost identical.
I wasn't the greatest Katie fan, but after this dress I can say that she really is a Princess. She walked into Westminster as a commoner but clearly walked out as a Princess. She has even become a fashion icon.
Polyvore.com
held many contests in her honour. This is my entry. (And yes, everyone copied me)
We can't compare Catherine to Diana as they are two different people and that is too much to ask from Katie and William.
So what does this Royal Wedding and Marriage actually mean to the rest of the world. Well for one, it tells all post 1980 babies to hurry up and find people to marry. But it doesn't tell us to find someone and marry after 6 months. Rather find someone in University or High School and grow with them. I find that those are the marriages that last the longest. But then again, what do I know about marriage.
The whole world is now watching The Duke and Duchess of Cambridge. I don't really think they care about such though. They both seem very grounded including William. Did Diana or Kate make William as grounded as he is? In general I think the Royal family is a very grounded one. Diana has a very big role to play in his character and now it is up to Catherine to keep his character intact.
I am very happy for both William and Catherine. Am I jealous ... maybe.
My mom believes that I was supposed to walk that isle and meet William but you know what he isn't my Prince. He is Catherine's Prince. We will all meet the people we supposed to marry and we too will all have a Royal Wedding in our own terms.
Congratulations William and Catherine.
Thanks for the Beautiful Wedding!