The EURO 2012 tournament starts today. I'm not the greatest sports fan out there but I know a thing or two about sport.
In order to write a comprehensive and
accurate
post about the EURO 2012 I had to call on readers and die hard football fans to help me out. I even asked people to predict who would win the EURO 2012. Before we get to the results let's hear what the
experts
have to say:
Irish National Footbal Team Members
Claudio Barreiro
"Ireland haven't lost in 14 games and haven't conceded in 11 games. You don't suffer goals, you can't lose, but going forward is a problem ... they'll try and penetrate with long balls down the flanks, with Robbie Keane floating around and doyle holding the ball up. Their own nation don't believe they can do it.
Portugal, strong in midfield and decent at the back. A history of having no forwards or goalkeepers, that's the case again for this Euro Championship. Ageing forwards, Hugo Almeida (a big lad good for holding the ball up, but that's where it ends) and Postiga (crafty but no real pace or potency to really hurt teams), however 21 year old Nelson Oliveira is a positive, perhaps his lack of experience could work in his favour and make him fearless in his game, possibility of being a good impact player. They are over elaborate and perhaps not effective. They will have possession of ball but it depends what they do with it. So scoring goals will be a problem and let's not forget their over critical nation that will look for any fault to target, instead of support."
Fred Ntambi
"I hate Spain because they are full of Barcelona FC players and they win a lot but I don't think they will win this year they have a few injuries to key players that made the them win first time. Netherlands are keen to win it because they screwed up at the World Cup final so they have more desire. But keep your eye out for France too, they were humiliated at the World Cup so they have something to prove.
France is good but they lack the leadership, there is no oe who wants to take the responsiblity to lead them to the finals like Zidane did.
English National Football Team Members
Where to start with England? Yes, they are full of injuries, lost three key players already. These injuries only came due to players being overworked because the Premiere League never has a winter break like most countries. These players are tired as hell. Fatigue will set in. Then there is the debate of the exclusion of Rio Ferdinand. He is very experienced and yet they choose useless rookies over him."
South African Football Player
French National Football Team Members
"Generation '87 is France's greatest youth generation. Boys born in 1987 won many youth tournaments I think and this year is the first year all of them are in the national team and are all on form. Benzema, Nasri, Ben Arfa and everyone has written them off. No one is talking about them so they don't have the pressure of being favourites."
Nane Nsomba
"Germany are the strongest team right now. Netherlands are also looking good but don't put your money on England, too many injuries for them. I could tell you with the stats who will win but it's unpredictable. People would say Spain but they don't have their best defender Puyol and their best striker/goal scorer, David Villa, so maybe the best prediction will be after the first games but as of now, Germany looks good."
Read the FIFA 2010 World Cup Blog Post here
I even asked football
experts
to tell me how they think the final will play out. (See the infographic for all the results).
Tlamelo Letebele
"For the safe money you'd have to look towards Germany or Spain, maybe even Portugal or the black horse, France. It's really an open tournament."
Marc Hatton
"Depending if this is actually possible (which teams are on which side of the draw) Germany and Spain."
Phatludi Modiba
"England vs France in the final with penalty shootouts. To close to call a winner."
Isma'eel Shabalala
"Germany and Spain in the final. Germany to win 2-1."
Now let's get to my opinion. I would like to start off by saying that I will be supporting Germany and that Germany will win!
(I decided to choose Germany before all the stats came in.)
"I don't speak German but I can if you like!" - Scheibe by Lady Gaga
So why did I chose Germany? Well my grandmother is half German and after watching the 2010 FIFA World Cup I knew that they were going to be a team to beat for a very long time. I don't know much about the techniques of football, but I know that Germany plays amazing football. Judging from all the votes and comments it seems like Germany are most likely to win the EURO 2012. If they don't I will be very depressed.
Who does EA Sports predict to be the winner of the EURO 2012?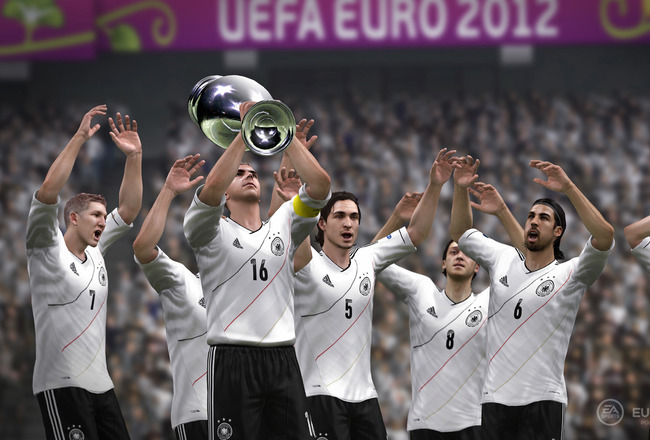 EA Sports Simulation Predicts Germany Will Beat Netherlands to Win Euro 2012
"Germany are the winners of Euro 2012, after beating the Netherlands 3-1 in a pulsating final.
At least that's what a tournament simulation by EA Sports has predicted.
The games manufacturer played out all 31 games on EA Sports' UEFA Euro 2012, the officially licensed expansion pack to their hugely popular FIFA 12 product.
Their mocked up tournament saw Russia, Poland, Germany, Netherlands, Spain, Italy, France and England advance from the group stages of Euro 2012.
At the quarters stage, England were beaten—all too predictably—by Spain via a penalty shootout.
Netherlands beat Russia 2-0, Italy edged out France 2-1 and Germany swept aside tournament hosts Poland 3-1.
The semifinals saw Netherlands shock holders Spain 3-1, with Robin van Persie among the goalscorers for the Dutch.
In the other semi, a Miroslav Klose strike was enough to see Germany past Italy.
In the final, Van Persie's opener for the Netherlands was cancelled out by a goal from Real Madrid's Mesut Ozil. It was then left for Mario Gomez to score the winner and hand Germany their first major tournament success since 1996.
Should we read anything into it? Well maybe. Here's what the official press release said (obtained first-hand):
EA SPORTS has a proven track record of correctly predicting winners using its game engines across all of its simulation sports franchises. EA SPORTS correctly predicted Chelsea would defeat Liverpool 2-1 to capture this year's FA Cup and Spain would win the 2010 FIFA World Cup in South Africa.The Madden NFL franchise has correctly predicted seven of the past nine Super Bowl champions."
Seems as if I chose the right team to support!
I always love writing blogs which require readers to answer a question or take part in a poll. Usually people just answer the question. This time round I had people writing me essays about why their team should win and why another will lose.
I witnessed several emotions being expressed during the process of writing this blog. This means that football is more than just a sport to many, it's a lifestyle. If you are one of those who asked me "What is the EURO 2012?" maybe it's time to get involved and be part of the action.
Here is a summary of the results from the reader's poll, Guardian.co.uk and Facebook stats.
Read the 2010 FIFA World Cup Review blog post here
Thank you to all who participated and Good luck to all the teams participating!
A special good luck to the German Machine!