2013 is over and what a year it was. From famous murders to famous deaths and births we have seen almost anything and everything that can be seen in a year and the world had it's eyes on South Africa during the year. Oscar Pistorius and Nelson Mandela both made the Google Zeitgeist coming in 22nd and 1st respectively.
Music
As per usual this blog post starts with the best and most popular music of 2013. This year saw the biggest names in music release new albums but it seems as if Drake and Pharrell Williams ruled on the music charts. Newcomer Mackelmore and Ryan Lewis also had their fair share of fame this year with their songs
Thrift Shop
and
Can't Hold Us
. However I'm sure the biggest name in music this year was Miley Cyrus and the biggest dance to come from music was twerking. All those who paid attention to music this year will know that Miley Cyrus and twerking go hand in hand. The former Disney Channel star chopped off her hair and took off her clothes all. Her Disney Channel fans dumped her but she managed to make fans out of '89, '90 and '91 babies.
According to Cyrus listeners her album is actually quite good but with all the bad press she has been getting lately, no one seems to really about the music. After twerking at every awards ceremony she has performed at, Miley Cyrus made sure she was one of the most talked about celebrities, but who remembers her music?
Besides dancing with Miley Cyrus, Robin Thicke managed to revive his music career with the help of Pharrell Williams and T.I.
Blurred Lines
was most definitely the most popular song of 2013. Not only was it the most most popular song of 2013, the music video also proved to a be hit and was parodied by many. Even South Africa's very own Danny K tried to create his own rendition of the video with the very popular,
Brown Eyes
.
Not only did Williams help resurrect the career of Thicke, he also resurrected his own. Williams helped with the production of some of the most popular songs in 2013 including
Get Lucky
by Daft Punk and also released his very own song,
Happy
which seems to make everyone happy!
Read The Born Sinner, Magna Carta, Holy Grail - Album Review Blog Post
One of the most underrated albums of 2013 have to be John Legend's
Love In The Future
and Janelle Monae's
Electric Lady
. However because both Legend and Monae don't take their clothes off to promote their albums, majority of the music listening world will not know how great their albums are. Together with J. Cole's
Born Sinner
and Drake's
Nothing Was The Same
they are collectively one of the best albums to be released in 2013, in my opinion.
The most illegally downloaded album of 2013 is Bruno Mars'
Unorthodox Jukebox
. I don't want to sound like I am supporting the illegal downloaders, but the album is absolutely amazing and needs to be listened by all. I also count it as one of the best albums of 2013.
It was also a big year for Justin Timberlake. The former N Sync band member released his first album in seven years and it proved to be popular with many.
Kendrick Lamar also proved to be one of the better rappers this year, even releasing a song where he blatantly says that he is the best rapper of his time.
Top 30 Songs of 2013
Blurred Lines - Robin Thicke feat. Pharrell Williams and T.I.
Get Lucky - Daft Punk feat. Pharrell Williams
Adorn - Miguel
Power Trip - J. Cole feat. Miguel
Khona - Mafikizolo
Thrift Shop - Mackelmore and Ryan Lewis
Spin My World Around - DJ Kent
Jika - Micasa
Started From The Bottom - Drake
Bugatti - Ace Hood feat. Rick Ross and Future
Hold On We're Going Home - Drake ft. Majid Jordan
F***** Problems - A$AP Rocky feat. Kendrick Lamar, Drake and 2 Chainz
We Can't Stop - Miley Cyrus
Wena - Heavy K feat. Mpumi
Pour It Up - Rihanna
B**** Don't Kill My Vibe - Kendrick Lamar
Royals - Lorde
Mirrors - Justin Timberlake
Happy - Pharrell Williams
Sweet Nothing - Calvin Harris feat. Florence Welch
Wrecking Ball - Miley Cyrus
Stay - Rihanna feat. Mikky Ekko
Wake Me Up - Avicii
Can't Hold Us - Mackelmore and Ryan Lewis ft. Ray Dalton
I Need Your Love - Calvin Harris ft. Elie Goulding
I Will Wait - Mumford & Sons
Beauty and A Beat - Justin Bieber ft. Nicki Minaj
When I was Your Man - Bruno Mars
I Love It - Icona Pop ft. Charli XCX
Brown Eyes - Danny K
Film
Undeniably the biggest film of 2013 was
The Greaty Gatsby
by Baz Luhrmann. The
Moulin Rouge
and
Romeo and Juliet
director remade the 1974 film which was based on the book by F. Scott Fitzgerald. Luhrmann not only created the more glamours version of the film, he also gave corporate teams and birthday parties a theme.
Read The Monsters University Blog Post
The Hunger Games
,
The Hobbit: The Desolation of Smaug
,
Iron Man 3
and
Monster's University
also had their fair share of fame but none was more famous than
Despicale Me 2
. The minnions and Dr. Gru were back at work this year and proved to be favourite not only for children but adults as well.
Quentin Tarantino's
Django Unchained
became a cult classic in 2013. The film starring Leonardo di Caprio, Jamie Foxx and Christopher Waltz was about slavery in America. In true Tarantino fashion there were a few laughs and gory scenes.
After the release of Django Unchained, slavery became the subject of other movies and songs. 2014 will see the release of
12 Years A Slave
and in 2013 we also saw the release of
Lincoln
. Kanye West and Jay-Z both speak of a new type of modern slavery in their albums.
The cast of the highly anticipated film,
Fifty Shades of Grey
was also announced this year. Charlie Hunnman was originally cast as the very famous Christian Grey however after uproar and his inability to handle fame, he later declined the offer. The role then went to Jamie Dornan. Dakota Johnson will play Anastacia Steele and Rita Ora and Luke Grimes have been cast as Christian's siblings.
Fashion
Sneakers were all the rage this year. White Converse All Stars were the favourite amongst both men and women. They were worn with shorts, dresses, skirts, jeans ... anything that can be found in ones cupboard was paired with a pair of white all stars. It almost became uniform.
Besides white all stars, everyone seemed to return to Nike. Air Max was one of the most sought out shoes of the year. Everyone wanted a pair. Air Jordans were also just as popular and together Air Maxs and Air Jordans managed to create one of the biggest trends of the year.
However sneakers weren't the only shoes women and men were wearing. The jelly sandals which became very popular in the '90s returned back to the fashion scene. I was about five years old when I got my first pair of jelly babies and at 22 I have my second pair. All the girls who had jelly babies seventeen years ago are revived the trend in 2013.
Besides
plastic
shoes, transparent
plastic
bags were also very popular with celebrities and street style personalities. Burberry even managed to end off their 2013/2014 Summer/Spring show with a transparent jacket.
Read The Best of London Fashion Week Spring/Summer 2013/2014 Blog Post
Besides bringing back sneakers, everyone had an urge to join the army. Camouflage and a military style of dress was the biggest clothing trend of 2013 and was largely influenced by 2012/2013 Spring Summer collections. Even if your item of clothing did not have the camouflage print, the silhouette could still be influenced by the military.
Marc Jacobs, creative director of Louis Vuitton also stepped down this year and culminated his time at the label by putting on the most spectacular show at Paris Fashion Week.
Read The Best of Paris Fashion Week Blog Post
Sport
This year the biggest sport controversy had very little to do with actual sport. We started off the year with a confession from former seven time Tour de France winner Lance Armstrong. Armstrong sat down with Oprah and strategically answered all questions about his doping past.
As soon as we were able to forget about Armstrong, Oscar Pistorius decided to also shock the world on the most romantic day of the year.
My bloody valentine
, as he was nicknamed shot and killed his girlfriend Reeva Steenkamp. South Africa stood still ... and made a few jokes here and there. What followed after the murder was a four day bail trail hearing.
Pistorius was locked up at the jail one minute away from my flat so I could hear all the police cars as they would transport him to court. I was also able to speak to some of the reporters who were stationed outside the police office.
Not only did Oscar kill his girlfriend Reeva but he became a disgrace and an example of how violent men treat women in South Africa abroad.
Sir Alex Ferguson retired as Manchester United manager after 27 years. To avoid starting a complex debate it is best I do not speak about how Manchester United performed after his retirement. He is the longest serving manager at Man United and won 38 trophies, 13 Premier Leagues and two UEFA Championships as manager.
Towards the end of 2013 King Kallis retired from test cricket. Jaques Kallis ended his test cricket career by wining against India and scoring 115 test runs.
Kallis is know as one of the greatest all rounders of the game and has proved essential in the South African team.
"It wasn't an easy decision, with Australia around the corner and the success this team is enjoying, but I feel the time is right. I don't see it as goodbye, I still have a lot of hunger to push South Africa to that World Cup in 2015 if I am fit and performing. The last two years specifically have been a memorable journey with an exceptional group of cricketers. I am fortunate enough to have ended my Test career amongst a group of talented cricketers but, more importantly, friends whom I will cherish for years to come."
- Jaques Kallis
While the world was making plans to celebrate New Years Eve, the world held their breath as we heard that Michael Schumacer had hit his head during a skiing accident. On impact, Schumacer's helmet was split into two pieces and the accident would have proved fatal if he was not wearing one. He is currently recovering in hospital.
Politics
The President of South Africa, Jacob Zuma, built a village instead of a home. Not only did Zuma build what looks like an Olympic village, he also let his friends, the Guptas land at the Waterklook Air Force Base.
The Guptas were here to celebrate the marriage of one of their daughters if I am not mistaken. To be honest, not many South Africans know who was getting married that weekend as we did not really care. We just wanted to know how
ordinary
citizens were able to land at the air force base. Well obviously if you friends with Zuma you can do anything.
What a year it was for Jacob Zuma. To make matters worse, his government tried to justify why Gauteng road users should pay to use a highway that has already been paid for and that continues to be paid for through petrol fees. It was not a good year for Mr. Zuma as South Africans found it very difficult to trust that he has our best interests in mind while he builds his own
kingdom
.
In other political news, America decided to shut down it's government for a short time. Not exactly sure what is happening at the White House but Obama seems to be pretty calm about it, even voluntarily taking selfies.
Read The Best of 2011 Blog Post
People
The most famous person of 2013 was Dr. Nelson Mandela. In June 2013 he was admitted to Pretoria Heart Hospital and that is when South Africa held their breath for the first time. I have written enough blogs and made enough videos that show the amount of appreciation South Africa has for the person who set us free.
I would rewrite about what he means to me and how his death effected me again but it carries too much emotion.
To read about the events surrounding Nelson Mandela's health scare and death, please read the following blogs:
A Tribute To Nelson Mandela
Madiba In The City
Nelson Mandela: 10 Days of Mourning, A Lifetime of Celebration
With a famous loss of life there also has to be a famous birth. The future King of Britain was born this year. Prince George Louis Alexander is the first child of the Duke and Duchess of Cambridge and is undoubtedly the most famous baby of 2013 ... sorry baby North West.
Towards the end of 2013 and just before the Father of The Nation left us, Paul Walker of
Fast And The Furious
fame passed away in a car accident.
Former South African boxer Baby Jake Matlala also passed away during the same time frame as Nelson Mandela and Paul Walker.
Gleeks
also had to bid farewell to Cory Monteith. The actor who appeared on four seasons of the very popular series
Glee
died of an overdose this year and became one of the most googled stories of 2013. Gleeks all over the world mourned the death of the star who had just left rehab.
James Gandolfini of
The Sopranos
fame was also laid to rest this year. While on holiday in Rome, he suffered a heart attack. The acting community met the news with surprise and so did fans of
The Sopranos.
Miley Cyrus was not the only celebrity who went off the rails this year. Amanda Bynes actually went off the rails before Cyrus. The former child star quit acting, dyed her hair blue, pierced her cheeks and took numerous selfies. She also proceeded to speak her mind on twitter.
Justin Bieber also had his share of bad press this year. However many people say we should forgive his bad behaviour because he is after all just acting his age.
Kanye West also joined the crazy celebrity parade this year. Together with Kim Kardashian they welcomed baby North West, or as South Africans call her, baby Mafikeng. He also mentioned a few times that Kim Kardashian is more relevant than Michelle Obama and that he is the greatest artist that ever lived.
The cherry on top of the
Kimye
topsy turvy year was the over exaggerated engagement. However, let us not forget the couch Kim wore to The Met Gala.
Then there was Nigella Lawson and her husband Charles Saatchi. The front page of many British newspapers showed Saatchi strangling Nigella. A couple of months later and Lawson was back in the spotlight. During the trial of her former employees, it was revealed that the TV chef has a cocaine habit.
Celebrities were not the only people to gain fame this year. Malala Yousafzai, the Pakistani school pupil and education activist made the world aware of the ban against girls attending school. It was only after an attempted suicide did the world finally learn about Malala and her cries for help.
In April she was featured on TIME Magazine's cover and named one of the most influential people in the world.
She was the winner of Pakistan's first National Youth Peace Prize and was nominated for the 2013 Nobel Peace Prize, she was the youngest person (at age 16) and the first girl nominated for it.
In 2013 something happened that no one ever thought could, the Pope resigned. Before 2013 I never even knew such could happen. Pope Benedict XVI resigned after 8 years
in office
.
A new pope had to be announced and the world awaited for smoke to leave the vatican.
Pope Francis of Argentina was elected as the new Pope and even became TIME Magazine's 2013 Person of the year. He is the 266th Pope of the Catholic Church.
Tragedies
While most were laughing at bizarre twerking and criticising bathroom selfies, the world still had to mourn tragic losses.
Read The Best of 2012 Blog Post
In Nairobi, Kenyans and the rest of the world had to witness terrorist attacks which were apparently lead by the
white widow
. The Westgate Shopping Mall Attack which took place in Nairobi lasted for about 48 hours and left 72 people dead and another 200 injured.
After the attack in Kenya, many people feared the
White Widow
especially as rumours started to surface that South Africa was her next target.
America also had their fair share of tragedies this year. Near the finish line of the Boston Marathon, two bombs went off killing three people and injuring ±264 others. What followed after the bombings is what one has only seen in a Ben Affleck film. A day later photographs of the suspects, Chechen brothers Dzhokhar and Tamerlan Tsarnaev were released and Tamerlan was shot by police and run over by Dzhokar. Streets were empty a couple of days later as police officers tried to track down the suspects. The manhunt was shown on live tv and Dzhokar was eventually found hiding in his boat.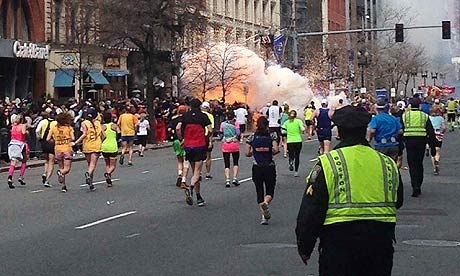 There were also a few transport tragedies this year. The Santiago de Compostela derailment killed 79 people and injured 140 people. The train which was travelling at the double the required speed of 80km/h overturned as it tried to go around a bend. The driver, Francisco José Garzón Amo, is charged with 79 counts of homicide by professional recklessness and an undetermined number of counts of causing injury by professional recklessness.
In Pinetown, South Africa, a truck went through a red light and killed 23 people. Video footage circulating on the internet will show that the truck drove over mini bus taxis and cars as it went through the red light. The cause of the accident is brake failure and caused outrage in South Africa as citizens do not wish to see the driver charged for homicide.
2013 had many tragedies and scandals but that didn't stop people from caring or laughing. I reccommend that everyone watches the Google Year In Review video.
I hope you all had a splendid 2013 and once again ... thank you for reading.